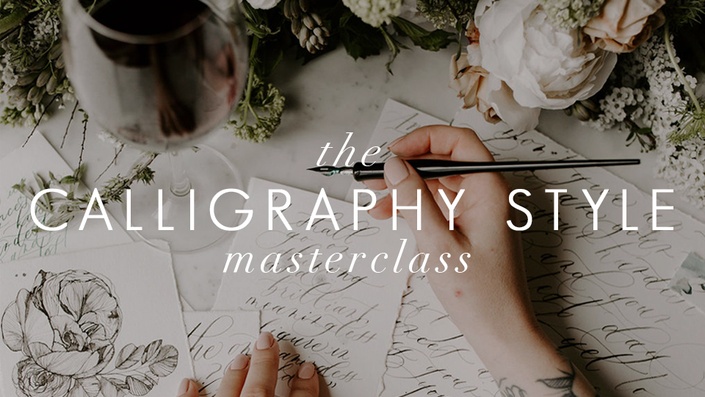 The Calligraphy Style Masterclass
Find your style, Attract your Dream Clients and Take your Calligraphy Skills to the Next Level!
Enroll in Course
So you've learned Calligraphy, and now you're ready to...
Finally Discover & Define Your Own Unique Calligraphy Style
Create Work that is Instantly Recognizable as Yours
Learn how to make work that stands out, so you can Confidently Attract Your Dream Clients
This course will teach you how to do all of that, and lots more!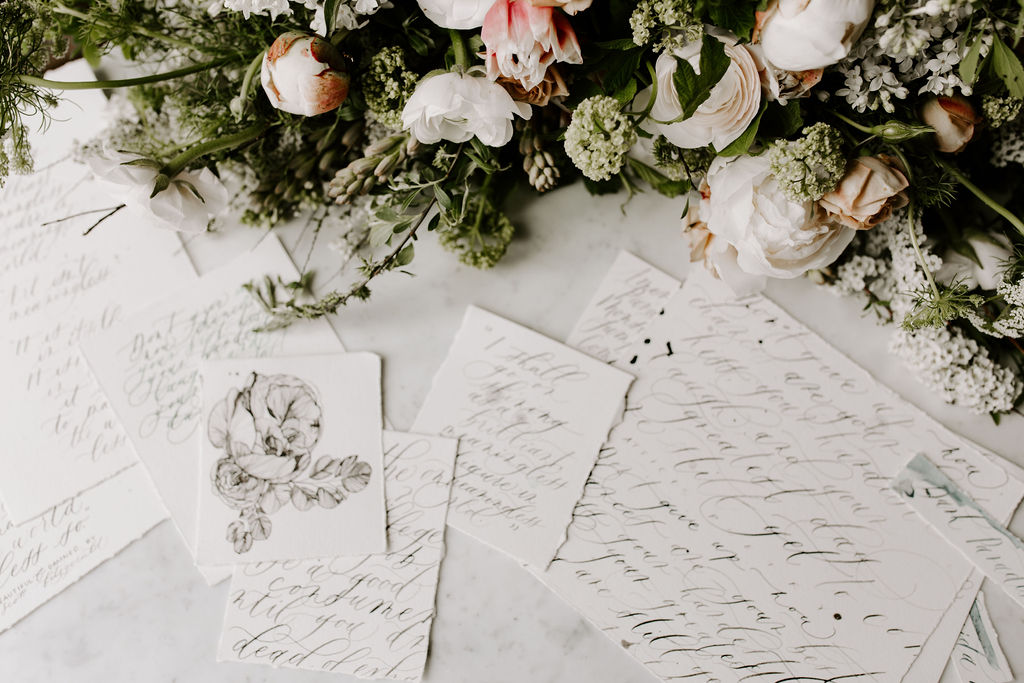 BLACK FRIDAY SPECIAL:
Enroll before December 1st and get The Calligrapher's Template Toolkit AND our Professional Pricing course for free!
Does this sound familiar - You're having a hard time getting your calligraphy work noticed by potential clients, and you feel like you're not standing out in your local calligraphy scene. You feel like no matter how much you practice, your work doesn't look uniquely yours - and you're just not sure what to do to find your own individual style.

You are definitely not alone! These are all common issues that a lot of beginner and intermediate calligraphers alike struggle with. We live in a time where thousands of images of other people's art and calligraphy are uploaded to social media daily. It allows us to gain inspiration and knowledge faster than ever before - but it also makes us compare ourselves to others more than ever before. Even though I've been drawing since I could hold a pencil, and working as a freelance calligrapher & artist for years - I still feel intimidated by what I see online every day. But the important thing to remember is that there is room for everyone and with practice, perseverance and the tricks you'll learn in this course - you will find your place.
It took me about 2.5 years to really nail down my style and start bringing in my ideal clients, but this course will help you get to that point much faster.
Your Instructor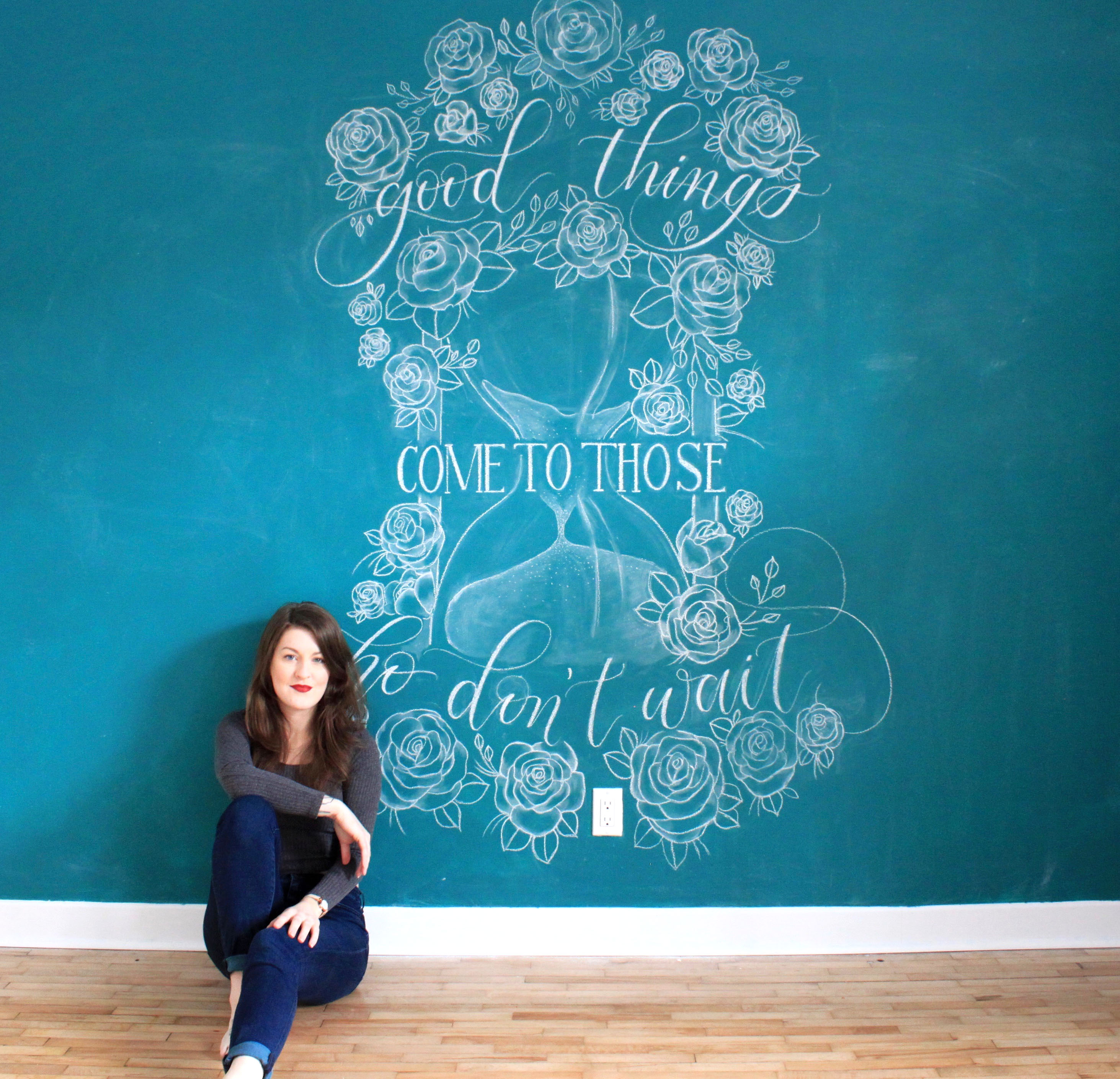 Hi Darling!
I'm Jodi - the Artist, Calligrapher, & Coffee Addict behind Someday Art Co! I run a Freelance Calligraphy Business based in Montreal, but I live just outside the city on a piece of land that used to be a vineyard (but much to my chagrin, is not anymore!). I've worked with clients like Dior & Chanel, as well as countless wedding clients and local businesses.
When I'm not lettering or drawing, I'm hanging out with my dog Teddy, listening to a true crime podcast or searching for the perfect full-bodied red (or at least, the one with the prettiest label). I love sharing my knowledge and business savvy with like-minded creative babes!
The Calligraphy Style Masterclass will teach you:

What exactly a "Calligraphy Style" is, and why it's essential to success!
How to analyze your work, create mindfully and evolve your personal style
How to break the rules the right way
A comprehensive list of what Stylistic Elements you can use to make your work stand out
All about different mediums & experimenting with different techniques to discover what you're the best at!
You will gain access to 50+ pages of practice exercises & information, as well as over 2 hours of Video Lessons, designed to take your knowledge and skills to the next level in no time!
So, how do you find your style when it feels like all the options are already taken and like everything has been done? That's where this course comes in! My goal is not only to help you discover and hone your style, it's to boost your confidence in your work and yourself! I've seen it time and time again in the workshops I've taught - students who beat themselves up trying to be perfect or trying to make their work like that of someone they admire. Students who are so focused on trying to make their letters perfect, that they don't realize that what makes their work look like theirs is the imperfections.
I came up with the idea for this course after teaching several watercolour & calligraphy courses and noticing the same thing over and over again:
From the very first time they picked up a pen, my students all had their own unique style!
BUT they struggled with how to identify and develop it.
This course is all about learning how to pinpoint what makes your work look like your work, and how to explore and develop it into a fully realized calligraphy alphabet & style that is totally unique to you.
Story time: When I took my first calligraphy class, I fell in love right away. I knew almost instantly that I wanted to turn it into a business. It was a Pointed Pen class taught over 6 weeks, taught by a wonderful teacher who I greatly admire. I noticed something through taking the class alongside a friend, and knowing a few other people who had learned from the same teacher - as they improved, their work kind of started to look like our teacher's. I was already working on a creative side hustle selling art & prints, and I thought incorporating calligraphy & hand-lettering would be the perfect way turn take my side hustle to something more (so I could finally quit my soul-sucking job). I took a few one-on-one classes with her after the original class, but I stopped after that. I wanted to make sure that I developed my own style, so my work would look completely different from hers. I was thinking about the future, knowing that if I would be working in the same local market as her, that I would want my style to be uniquely mine. Not only so I wouldn't step on her toes, but so that I could set myself and my business apart.
By honing my skills and working diligently on developing my style, I put myself on the path to be hired by a variety of incredible brands, local businesses, and countless brides.
Who is is this course for?
New Calligraphers, who have learned the basics of calligraphy and want to find their style & take their skills to the next level!
Intermediate Calligraphers, who don't feel their work is getting noticed and want to hone their style to attract their ideal clients!
Developing a Calligraphy style shouldn't be stressful or daunting - it should be fun! I will show you how to focus on what you already have going for you, instead of worrying or comparing yourself to others. You will also learn how to harness your unique point of view and skill set, and come out the other side of this course with a much clearer idea of what your strengths are and how to play them up!
When I first learned calligraphy, I was acutely aware that I wanted my style to look like mine - because of my background studying illustration & design, where the whole concept of "having a style" was paramount to success. I was lucky that I had a general idea of how to go about doing that - but I know not everyone knows how to make that happen. That's why I created this course - so I can help you with this process and make it easier for you to find your voice!
In this course, you will learn how to discover & define your personal calligraphy style for a thriving creative career! The price is the same as around 2 hours of one-on-one instruction with me - except I've packed an entire month's worth of content & education into it! And you get to just cozy up in your sweatpants with a box of chicken nuggets while you go through the lessons (that is, if you want to) (...it's what I would do!)
Course Curriculum
Introduction | Style Pep Talk
Available in days
days after you enroll
Part 1 | Style Analysis
Available in days
days after you enroll
Part 2 | Calligraphy Rules & How to Break Them
Available in days
days after you enroll
A little something extra
If you need a little extra help or a creative pep talk, there is also an option to add a little virtual coaching sesh with me to the class (a one hour call & recorded video assessment of your style). If you opt for that, I would encourage that you note down any questions you may have while working your way through the course, so when we work together, we have specific issues to target!
Important Note: Students must have access to a device that can make video calls. Students must also be okay with the fact that there is a high chance I will be wearing pajamas and possibly drinking wine. You are welcome (/encouraged) to do the same.
Frequently Asked Questions
When does the course start and finish?
The course starts as soon as your purchase! The first part is available immediately, and the final 3 parts will become available over the following 3 weeks, so you can pace yourself in the beginning and absorb all of the information. After the last part is sent out, all of the content will be available, forever! At that point, you decide when to work through it and when to revisit parts you need a refresher on. You will also have lifetime access - which means that every time I update the course with a new technique or tutorial, you will have full access to it at no additional cost!
How long do I have access to the course?
How does lifetime access sound? After enrolling, you have unlimited access to this course for as long as you like - across any and all devices you own.
Someday Art Co | Features & Notable Clients
Features
Vogue Italia | Global News | HuffPost Quebec | Junebug Weddings | DIY Network | Wedding Chicks | Mariage Quebec | Elegant Wedding | Magnolia Rouge | Ruffled | Goodtype | Deserres | Calligrafile

Notable Clients
Parfums Christian Dior | Chanel | Glenfiddich | Aston Martin | L'Oréal | David's Tea | Pandora | Urban Outfitters | Lululemon | MFLEURS | Loft Nail Bar | David Yurman | Rustique Pie Kitchen | Guess | Marciano | Beauty Boutique by Shoppers Drug Mart | Urban Bonfire