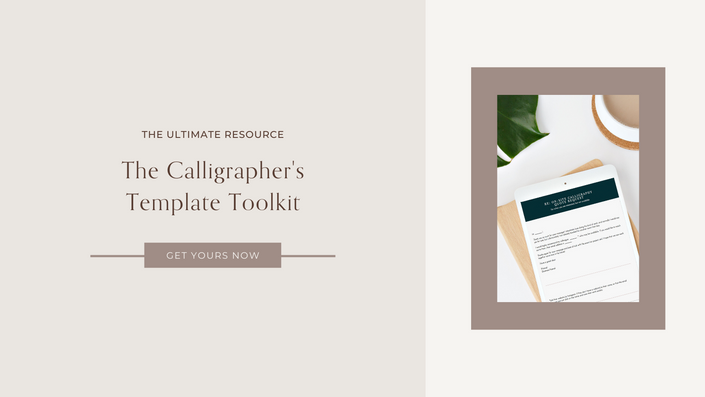 The Calligrapher's Template Toolkit
Email Templates & Policies for Calligraphers
Save Future-You HOURS of Precious Time with Ready-Made Response Templates For Every Situation
So you can spend MORE time making real $$$ in your biz and LESS time banging your head against your keyboard trying to get to Inbox Zero
---
So, you started a Calligraphy Business. You thought that meant you'd get to spend the majority of your time creating - only to discover that in reality, your time gets cannibalized by client management.
You constantly find yourself tapping away on your laptop, deleting and re-writing the same sentence a hundred times as you agonize over putting together a quote, explaining your process or just trying to find a polite way to say "No". Meanwhile, your Finetic Gold Palette that you were so excited about is collecting dust in the corner, your brush pens are drying out at the bottom of your pencil case, and your Dr Ph Martin's Bleedproof White has turned to cement in an act of rebellion.
We 👏 have 👏 been 👏 there 👏
If you're looking for a way to reclaim your time in your calligraphy business and get back to spending more time doing what you love - this one's for you. Here's what you get when sign up for the The Calligrapher's Template Toolkit:
⚡ A Complete Library of Readymade E-mail Templates that You can Implement TODAY
Use these done-for-you email templates to reply to everything from common emails about calligraphy jobs & pricing inquiries, to sticky situations (like the good ol' "I don't really have a budget" message ) to contract negotiations and SO much more! The answers are already written, and are ready to be copied & pasted into your biz!
⚡ An À La Carte List of Business Policies That Are Yours To Steal
These are the exact policies that we've developed after years of "learning experiences" (*cue side eye*). You'll gain access to a list of detailed policies regarding contracts & deposits, pickup/delivery procedures, rush fees, etc. Pick and choose the ones that suit your needs, or use them all in your service contract!
⚡ Instructions on How to Set Up Your Canned Responses & Email Signature
This whole thing is about making life easier for you, right? So we've made sure to include clear instructions on how to use, and make the most of the Template Toolkit!
⚡ Readymade Responses for Some of the Toughest Questions You'll Encounter
Including what to say if someone asks you to work for exposure, if someone tells you they know someone who will "do it cheaper", and other uncomfortable topics that you struggle to respond to you on your own!
What you will NOT get from the Calligrapher's Template Toolkit:
• Pitch Templates!
We know, we know. It's all well and good to know how to answer clients, but how do you GET clients to email in the first place?
We have both built successful businesses without cold-calling of any kind, and we believe strongly that playing the long-game of relationship building > cold pitching. To show you how much more powerful we think our tactics are, we've included an entire section on how to attract clients without having to pitch your services.
Course Curriculum
Getting Started
Available in days
days after you enroll
E-mail Templates | Pricing & Quote Requests
Available in days
days after you enroll
E-mail Templates | Project Workflow
Available in days
days after you enroll
Frequently Asked Questions
Who is this course for?
This course is perfect for anyone who is just starting their own calligraphy business and isn't sure what to say when clients contact them, and doesn't know what kinds of policies they should have in place. It is also a huge asset for experienced calligraphers who haven't had the time to set up automated e-mail responses or clearly outlined policies!
Who is this course NOT for?
This course is not for you if you are still learning calligraphy or consider yourself to be more of a hobbyist than a business. That being said, as soon as you start selling you calligraphy services or attracting clients, this course will probably become a great fit for you!
What if I am unhappy with the course?
We would never want you to be unhappy! If you are unsatisfied with your purchase, contact us in the first 30 days and we will give you a full refund.
Stop wasting valuable hours racking your brain for the right words, so you can reclaim your time and start moving the needle in your business
Here are a few ideas of things you can do with all the time you will get back after implementing these templates:
💡Binge-watch "Love is Blind" on Netflix (Trust us on this one)
💡Cuddle with your dog (Or cat, if that's your thing)
💡Dedicate more time to working on the parts of your business that bring you the most joy (and/or the most revenue 💰)
Are you ready for your life to get a whole lot easier?